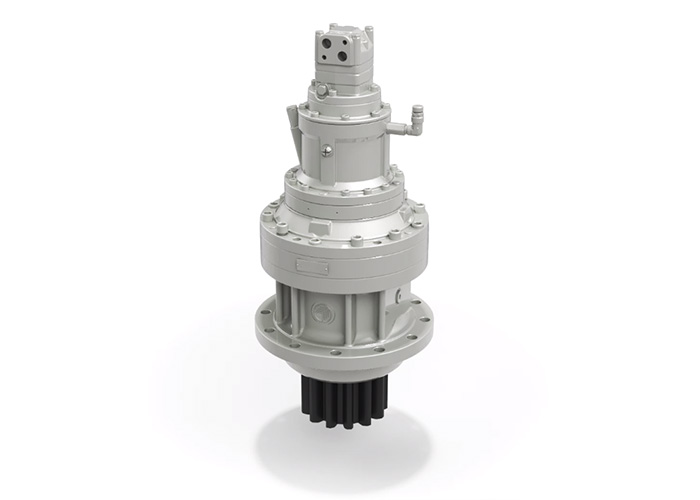 700T Series – Slew drivers
Innovative solutions for the rotation of structures
The Bonfiglioli 700T series provides the safest, most effective solution for cranes, excavators and forestry machines. Highly appreciated by all major manufacturers, the 700T Series has long been established in the crane, excavator and special equipment industries.
They are gearmotors particularly suitable for:
Mini excavators
Truck crane
Aerial platforms
Concrete pumps
Other similar applications
TECHNICAL AND CONSTRUCTION FEATURES:
n. 13 sizes for output torques up to 70,000Nm.
pinion shaft outputs supported by bearings with large load capacity
sturdy output body with high or low mounting flange
inputs for different types of hydraulic or electric motors
parking brakes, mounted at the input, of the multi-disc type in oil bath with negative action; hydraulic opening, closing by means of springs
double action multi-disc brakes are available for mobile cranes: positive and negative, for dynamic and static braking with double hydraulic control
oversized gears and bearings for very heavy duty
available with hydraulic motors complete with maximum pressure and anti-cavitation valves
The unit consists of:
High performance semi-integrated orbital motor
Planetary gearbox with one or more reduction stages for a wide range of ratios
Different types of output sprockets
Control valves flanged on the engine, such as: anti-shock and anti-cavitation valves, balancing and anti-shock valves
Internal control multidisc negative parking brake (optional)
Separate motor-gearbox lubrication.
Planetary reductions with shaved gears then cemented and hardened; crowns with tempered and induction hardened internal toothing
Sturdy reducer body in ductile iron
Shafts with integral or reported pinions obtained from forged steel, worked then case-hardened and tempered
Shaft support bearings with large load capacity to withstand the high loads deriving from the pinion-fifth wheel meshing
Lubrication in oil bath, lower bearing on the pinion side permanently lubricated with grease.
It is a series designed for the rotation of cranes and turrets, operating machines, wind power plants, drilling.